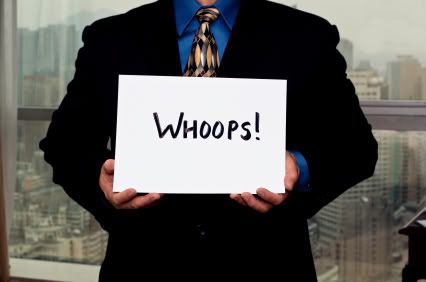 You have heard of many mistakes that have been witnessed by hiring managers! Don't turn up late for the interview, don't send the same resume letter and CV to 100 companies, send a thank-you note or email to follow up after the interview...and so on. Yet, hundreds of job seekers still carry on making the same common job search mistakes.
Here are yet another 10 common job search mistakes to avoid - some of which may actually disturb you!
1. Your thank-you note is not up to standard
Send a four to eight-sentence thank you note to show your interviewer that you have taken the interview, and thus your potential future job, seriously.
2. You don't check your references
Make sure that your references are previous employers with whom you have had a good relationship, or ended your employment on good terms. An occasional colleague is fine, but friends and family members (unless they were your employer), don't really carry much weight in helping you land a position.
3. Your business acumen is poor
Sometimes managers take their interviewees on a lunch interview. They want to see the 'real' you, so make sure you're on your best behaviour.
4. Your briefcase is like an erupted volcano
As is expected, an organised briefcase refers to someone who is organised, diligent and hardworking. Similarly, a messy briefcase gives off the impression that the person is not really serious about his or her job.
5. You think temporary positions will only waste your time
If it's a temporary position, it does not mean that you cannot gain good experience, or end up by landing yourself a permanent position, possibly with the same company. Employers who see that interviewees are not much excited upon the prospect of taking up a temporary position might also think that these candidates are not really dedicated to working hard, and getting the job.
6. You have, in general, a bad attitude
Be careful on how you answer the phone and reply to emails. Every little thing counts. Really.
7. You include too much work history
If you had a good long working history, it would be better - and wise - of you to refrain from listing all the jobs, temporary or permanent, that you had. Instead list those jobs that are directly related to the job that you are applying of.
8. You use your work email address on your résumé
Do not use your previous employers' email address on your application. This might send a negative message to potential employers that the job seekers will not hesitate to use their equipment for personal use.
9. No, 'No' is not the final answer!
If you have been rejected for a job, it doesn't mean that you should lose all hope from ever getting a job at that company. You might be considered for other posts, or you might be on the waiting list for future vacancies of the job you originally replied for. Send a thank-you note to your interviewer and be optimistic for any future possibilities.
10. It's not really about you
It might hurt, but it's true. Remember that the job interview is not just about you. Your prospective employer is evaluating you as a possible candidate, and hence you have to meet their need to run a successful business and generate more profits.
This article is courtesy of Career Builder
Nikita Pisani at Muovo